Indoor Soft Play – Currently Closed
If the children need to let off steam, make sure you stop at the Play Station; our exciting indoor soft play area suitable for those up to 12 years of age.
Our unique train themed children's indoor soft play area, spread across multiple tiers, has been specially created for Pecorama, and is open all year round!
There are many features within the soft play area, including a 3 metre high racing slide, a twin-lane Astra slide, a spiral slide, cargo climbs, a spinning floor, spider web climb-throughs, giant balls, clear decks, log ramps and much, much more…
The main soft play area is designed to suit children aged 4-12 years. Children aged 2 and 3 years can be admitted, providing an adult or older sibling accompanies them. The infant's soft play area is perfect for children aged 1-3 years and parental supervision is required.
In the interest of hygiene and safety, socks must be worn at all times by children and accompanying adults. Parental supervision is required at all times.
NB: Only food and drink purchased at Pecorama can be consumed in the indoor soft play areas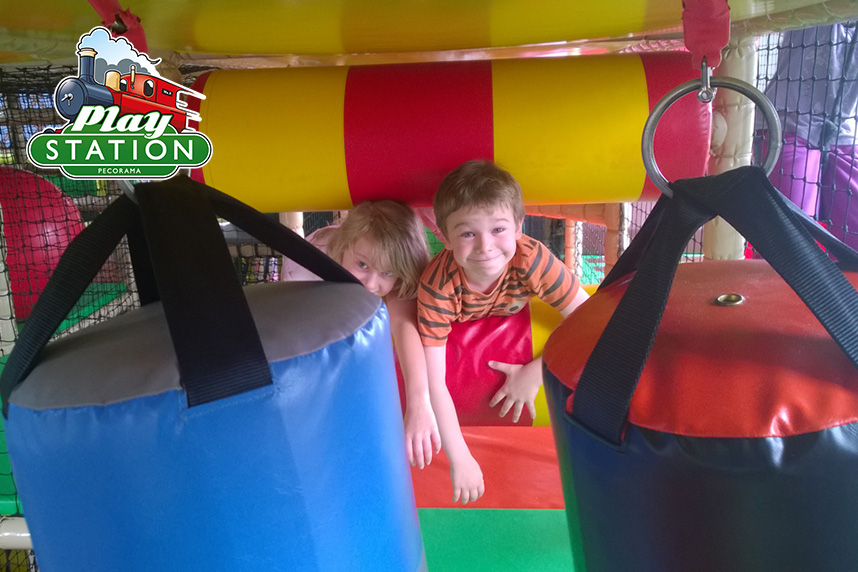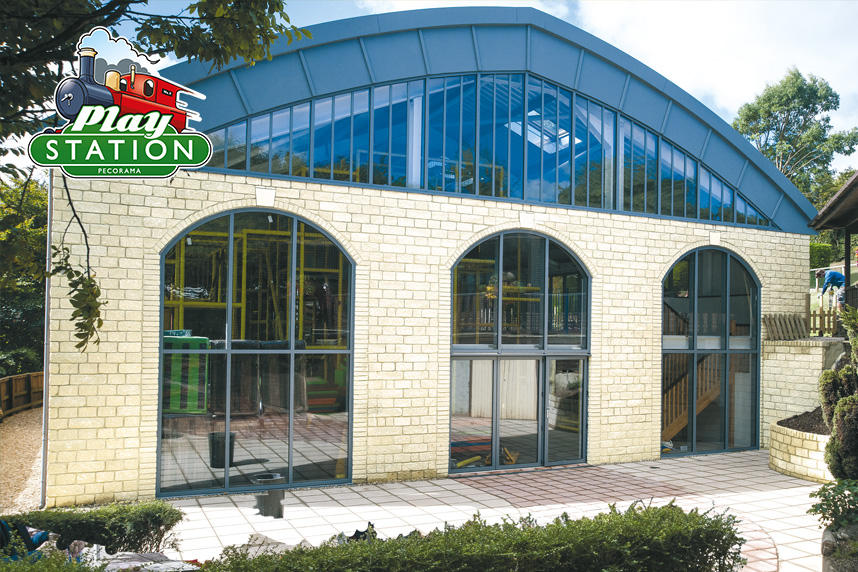 There are a number of seating areas around the soft play area, where adults can relax and enjoy barista-style coffee and homemade cakes. The raised viewing platform gives great visibility of the 3-storey soft play area and the adjacent decking provides the rare opportunity for a spot of parental peace overlooking the gardens. Light meals and refreshments can be purchased either from the soft play area or from the Garden Room Restaurant just a few steps away. Only food or drink purchased from Pecorama can be consumed in the Play Station. 
The Pecorama Play Station is the perfect venue for birthday parties, all year round. Children will work up a healthy appetite in the soft play area and adults can mingle over a hot drink, while we take care of all the party catering. We will lay out a splendid birthday tea or lunch, on reserved and decorated tables. There is a choice of hot or cold menu options and we are happy to accommodate any special dietary requirements. We can even bake a delicious cake for the Birthday boy/girl if needed. Feel free to personalise the party as much or as little as you like. Early booking recommended, as our party services grow ever more popular!
The Pecorama Play Station is also available for Private Hire. Please contact us and ask to speak to the Tourism Office to discuss the available options.